5 REASONS WHY VIETNAM SHOULD BE YOUR NEXT FAMILY HOLIDAY DESTINATION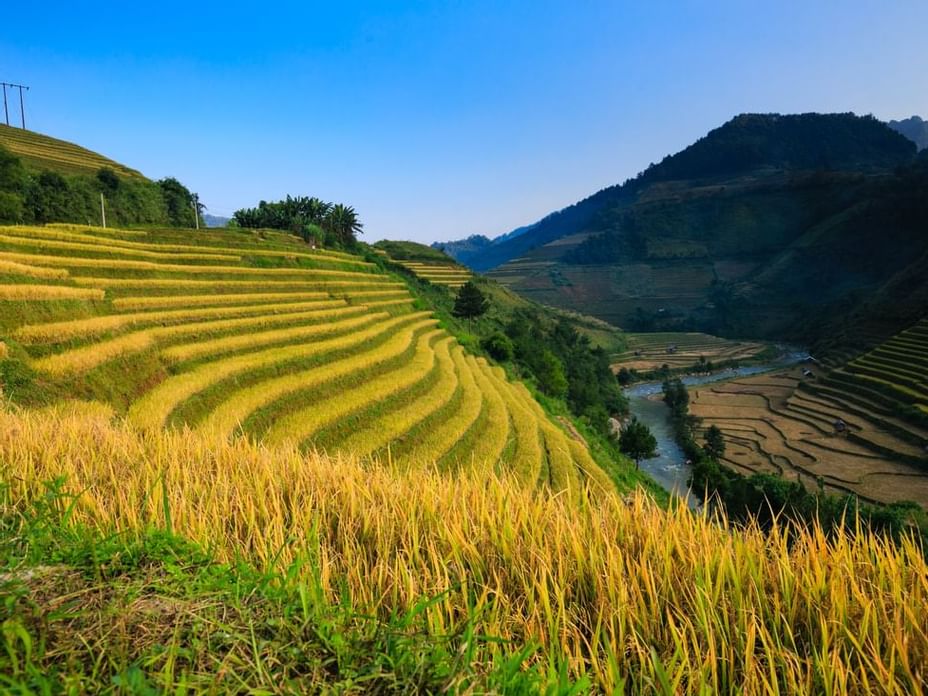 With 3,000 kilometers of spectacular tropical coastline, fascinating culture, endless activities and exquisite food, it comes as no surprise that Vietnam is an increasingly popular family holiday destination - from beach hoppers to culture buffs and adventure seekers, Vietnam has something for all ages. Take a family trip to Vietnam and share amazing new experiences with your loved ones
Natural Beauty – Discover Vietnam's vast array of geological riches. From the karst (limestone) geology creating natural wonders like Ha Long Bay and Hanoi's many lakes in the North of Vietnam to the sand dunes in red and white hues attracting curious travellers to Central Vietnam.
With more than 3,000km of coastline, Vietnam is perfect for the kids to build sandcastles and snorkel while you bask in the sunshine. Discover serene secluded coves, white sands and crystal-clear waters ideal for snorkelling. Just 175km to the south of Ho Chi Minh City, is Ho Coc - an enchanting, often deserted beach, offering a 5km stretch of golden sand, clear waters and backed by fine dunes. The Binh Chau Hot Springs are located conveniently nearby in case sunbathing gets too much. 
​Also, not far from Ho Chi Minh City is Vung Tau - this accessible destination ranks among the best beaches in Vietnam due to its beautiful landscape and well-developed tourism. As if endless sands and blue waters weren't enough, Vung Tau is also home to a mountain range that diversifies the local landscape. Aside from swimming and sunbathing, the family can opt for a trekking trip to the giant statue of Jesus Christ or around the newly built Cloud Lake Resort- Amusement Park.
The famed Mekong River winds its way through Southeast Asia, flowing into the East Sea at the Mekong Delta just south of Ho Chi Minh City. The Mekong Delta allows visitors to look at an ancient riverside lifestyle and a habitat - more than 1,000 species of animal live side by side in what is described as a "biological treasure trove". Why not take a boat ride to explore the floating markets?
 2. Vietnamese Culture - Vietnam should be called 'the land of endless smiles'. With friendliness present in every corner, from the urban cities to rural countryside, Vietnam offers the perfect warm welcome for families.
​One of the oldest cultures in South East Asia, dating back to 2000 BC, Vietnam has a complicated history - influenced by Chinese, Khmer, and Indian cultures, as well as French colonialism - there is much for you and the family to discover about the country's rich history.
​
The Museum of Ho Chi Minh City is housed in a beautiful and imposing neoclassical building built in 1885 and formerly known as Gia Long Palace and the Revolutionary Museum. Here you can take a journey of cultural discovery, learning the story of Vietnam with archaeological artifacts, ceramics, city maps and exhibits about the city's diverse cultural heritage.
​Ben Thanh Market is one of Saigon's oldest landmarks and most dynamic places to visit – a bustling market by day and a vibrant social scene by night. Located in Ho Chi Minh City's District 1, it's a great place to buy local handicrafts, branded goods, Vietnamese art and other souvenirs. Get a taste of hawker-style Vietnamese cuisine or simply cool off with a cold drink at the food stalls inside the market. As night falls, restaurants around the market open their doors creating a vibrant street side scene filling the air with the scents of wok-fried noodles, barbecued fish and meats. 
3. Little Adventurers – Vietnam has plenty to offer in the way of adventures family vacation ideas – from discovering the Cu Chi Tunnels to sledding down the Mui Ne sand dunes, there's something in Vietnam that suits your appetite for adventure. 
​Ho Chi Minh City is the biggest and most modern city located in Southern Vietnam, where you'll find some of the best destinations for all - from historical spots to entertainment centres and open spaces. Included in the must-visit list is Ho Chi Minh City Museum of Fine Arts, Saigon Notre-Dame Basilica, Gia Long Palace, Saigon Opera House, Tao Dan Park and A O Show Saigon. 
Close to Ho Chi Minh City are the Cu Chi Tunnels, considered as a heroic district for its role during the American war in Vietnam. Offering visitors a sneak-peek at the underground life of Vietnamese soldiers back in 1948, the site has over 120km of underground tunnels to crawl through - with trapdoors, living areas, kitchens, storage facilities, armoury, hospitals, and command centres.​

​If you need to burn-off some of the kids' energy, why not travel by bicycle, kayak or foot. Bike through small rural villages and rice fields near Ninh Binh, kayak and hike in caves at Ha Long Bay, try your hand at traditional net fishing in floating baskets or ride a water buffalo in Hoi An.
​For more outdoor activities for the family, enjoy a range of sporting activities including tennis, rock climbing, basketball and more at Phan Dinh Phung Sports Club, or explore Tao Dan Park and Le Van Tam Park – beautiful parks, featuring walks lined by tropical trees, including flame trees and So Khi trees.
4. Food for All Ages – The Vietnamese are obsessive foodies so there's sure to be something to please even for the fussy eaters in the family. Plus, with vendors selling specialty dishes daily on every street corner, you don't stay hungry for long in Vietnam's Ho Chi Minh City. 
Taking a food tour in this foodie's paradise is a good idea as it offers tourists a variety of tasty street food such as banh khot, banh tam bi, banh da cua - always tasty, fresh and healthy. Beer is another major Vietnamese preoccupation and every major city seems to have its own brand of beer, from Hue's Huda to Saigon and Hanoi's eponymous brews.
5. Family Friendly Accommodation – For ultimate kid friendly vacations Sherwood Residence is an elegant five-star luxury hotel offering beautifully appointed two- and three-bedroom serviced apartments and penthouses in the heart of Ho Chi Minh City, Vietnam. 
At this convenient location, hotel apartments provide easy access to all major tourist attractions and shopping centres. While you relax in the outdoor pool area, fitness centre, Finnish sauna, steam bath, table tennis, billiards and golf putting area, or yoga room, the kids will be happy and amused with an array of kid-friendly features, including a playroom (open 6am – 10pm), mini cinema, game room and separate children's pool. For added convenience there is a complimentary shuttle service to key shopping, dining, and entertainment hotspots in Saigon's historic centre.