FAMILY HOLIDAY IN VIETNAM: EXPECTATION VS REALITY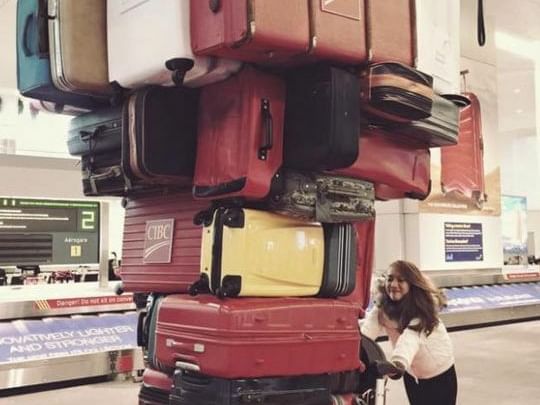 Heading to Vietnam for a family holiday to remember? Your dream family vacation likely involves you relaxing by the pool, catching up on a little light reading, as the kids enjoy splashing around. Or perhaps spending the day together, sharing new experiences in new places. Can your big holiday dreams really come true when kids are involved? Is a family holiday really a family holiday if the reality meets your expectations?
Expectation: We will travel light for this holiday.
Time to pack smart. Remember the weather in Vietnam can be changeable so layers are essential. Think lightweight layers that can be interchangeable, to save on space. Don't forget a light raincoat for all the family.
Reality: Where on earth am I going to put all this stuff?
Maybe I didn't need eight pairs of shoes for our week-long holiday. Why did I pack fifteen t-shirts for each of the kids? Have no fear, Sherwood Residence is here. At one of the best places to stay in Ho Chi Minh City for families, Sherwood Residence have spacious rooms ideal for when you've over-packed. Plenty of space for all those shoes.
Expectation: The kids will love all the travelling now they're getting older.
Travelling to a new destination will be so exciting for the kids, they'll be happy just taking in the scenery.
Reality: "Are we there yet? Are we there yet?
​Why do they need to stop for the toilet again? What do you mean you're bored? Stop picking on your sister. For the fiftieth time, no we are not there yet. Unless you're one lucky parent, the kids probably aren't going to sit back and enjoy the journey, so plan ahead. Plenty of travel snacks, music, films and games will help the journey go a little quicker for the little ones.
Expectation: We'll get an early start to beat the crowds tomorrow.
Let's make the most of our time away and beat the crowds. We can rest on the journey home.
Reality: Mmmmmm bed
​It may not be so easy to leave the super comfy beds at Sherwood Residence. Just 5 more minutes...2 hours later...
Expectation: We're going to try this fabulous restaurant I found.
It'll be so nice to enjoy a meal out together and taste the local cuisine.
Reality: "Ohhhh but I don't like that food
​For some kids there's nothing like homemade food. Fortunately, at Sherwood Residence the kitchens are ideal for staying in and making dinner. Or try Sherwood Residence's very own Club Restaurant and Café, serving a selection of Western and Asian cuisine.
Expectation: Let's spend the day exploring.
In such an amazing place, it would be wrong not to get out there and explore.
Reality: "Why can't we just swim in the pool?
​It may be a struggle to drag the kids away from the outdoor pool, mini cinema, playroom and games room at Sherwood Residence. But hey, if you can't beat them you may as well join them. Besides, who doesn't love an afternoon by the pool.
Expectation: Perfect fun-filled and fail-proof holiday itinerary. Check.
Top attractions and places to visit, googled. What could possibly go wrong?
Reality: No kids allowed? Closed for renovation? Need to book ahead? Aarrrggghhhh
​That's our itinerary out the window then. Don't worry, if you're staying at Sherwood Residence in the heart of Ho Chi Minh City, there's always lots to do nearby. Plus, they offer a complimentary shuttle service to all the local shopping, dining, and entertainment hotspots, and travel assistance for all sightseeing attractions in the city and surrounding areas. 
Expectation: This is going to be a holiday to remember!
Memories to cherish and photos to savour.
Reality: Well we won't be forgetting that holiday in a hurry
​What on earth are you doing in that picture? Can't we get at least one decent photo together?
Expectation: This holiday will be perfect family bonding time.
All this quality time together will be so good for us as a family.
Reality: I need a break from these kids
​Okay that's enough now, time out. Enjoy a moment of escape in the Finnish sauna or steam bath at Sherwood Residence. You deserve it.