TOP 5 DAYS TRIPS FROM HO CHI MINH CITY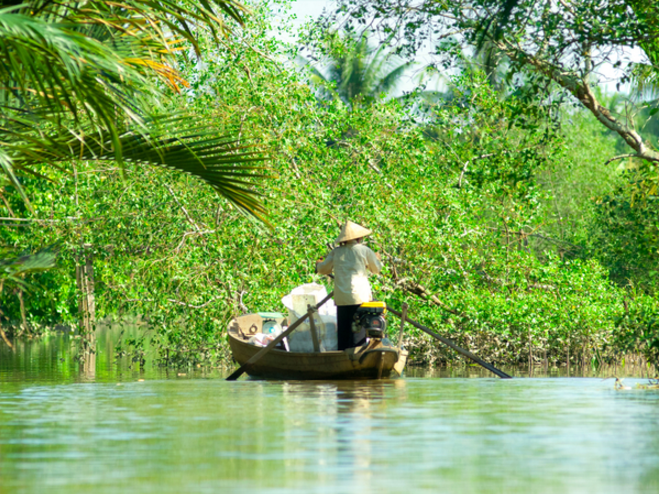 As one of Vietnam's most prominent cities, Ho Chi Minh City certainly isn't lacking in exciting activities, culinary delights and sightseeing opportunities, but why not take a few days out and escape the busy metropolis for a different environment. With our top 5 day trips from Ho Chi Minh City, just hours from the city, you can discover jungles, floating markets, islands, rivers, and much more.
Mekong Delta - A well located and comfortable base is essential for exploring in and around Ho Chi Minh City. The central location of the elegant five-star Sherwood Residence makes it an ideal base for getting around. Situated right in the heart of the city, you can be sure to start your day right from these stunning serviced apartments. 
Source: luxuryescapes.com
​Plus, the hotel offers travel assistance for all sightseeing attractions in the city and surrounding areas. After a hearty breakfast at Sherwood Residence, head out to experience rural life at the Mekong Delta. It will take around 2 hours from here to the Mekong Delta and it's definitely worth booking a tour to get the most out of exploring the area. When at the vast Mekong Delta area, much of your exploration will be centred around the waterways, as it is the waterways and canals that predominantly connect one area to the next. Why not get hands on and have a go at fishing with the locals or enjoy a peaceful canoe down the canals. Many tours will take you to the durian orchards, rice fields, rice paper factories and local markets.
​2. Vung Tau – Perhaps the easiest way to get to the very popular destination of Vung Tau is by road, on a bus or taxi. 
Source: luxurytravelvietnam.com
From Sherwood Residence this excursion should take approximately 2 hours, and most buses run from Ho Chi Minh City to Vung Tau around every 30 minutes (Sherwood Residence can assist with your travel arrangements if you're unsure). While the beach itself isn't perhaps as spectacular as others in Vietnam, the laid-back vibe of this small, bustling coastal community more than makes up for it. In this charming sea-side town there are plenty of activities to fill your day, including a small hike up the surrounding mountains, or a gondola ride up if you'd prefer. For the foodies, the fresh seafood along the beach or at one of the many restaurants in town comes highly recommended.
​3. Can Gio Mangrove Forest – Can Gio Island, otherwise known as Monkey Island, is a series of islands comprising of 80,000 hectares of mangroves and water coconut forests. 
​The Can Gio Mangrove Forest is around 40km (25 miles) from Ho Chi Minh City so it doesn't take long to get there, but the simplest way is by bus followed by ferry across the Nha Be River. Aside from the hundreds of monkeys, this UNESCO biosphere reserve features a unique wetlands ecosystem, home to a number of rare plant and animal species, including many saltwater crocodiles and a variety of migratory birds. In the forest reserve you can feed the monkeys, fish for crabs, watch the bats or even feed eels to the crocodiles.
​4. Cu Chi Tunnels & Cao Dai Temple – The Cu Chi Tunnels played a vital role during Vietnam's long fight for independence and on your visit here you get a real insight into what life was like during that time. Spend half a day learning about the interesting history of the tunnels and climbing through the narrow spaces. There are a variety of transport options to Cu Chi Tunnels, but a bus is perhaps the simplest and is around an hour and a half journey from near Sherwood Residence. 
​On your journey back to the city, stop off at Tay Ninh to see the Cao Dai Temple, home of the Cao Dai religion. Time it right to experience the main draw at this temple - the daily masses, featuring bright colours and fascinating rituals.
​5. Cai Be Floating Market – A full day excursion to Cai Be floating market is the perfect way to witness the floating market activities, enjoy boat rides through small canals, experience cooking local dishes and biking in the village paths. 
Source: luxuryescapes.com
​Arrange a tour and get picked up directly from Sherwood Residence, where you will head along the Trung Luong Express Highway, perhaps stopping off to take photos in Tan An town overlooking the picturesque flat rice fields. Though not as large as Cai Rang floating market, Cai Be is the less touristy option, where you'll see locals trading fruit, flowers and seafood.