THE IDEAL LUXURY SERVICED APARTMENT IN HO CHI MINH CITY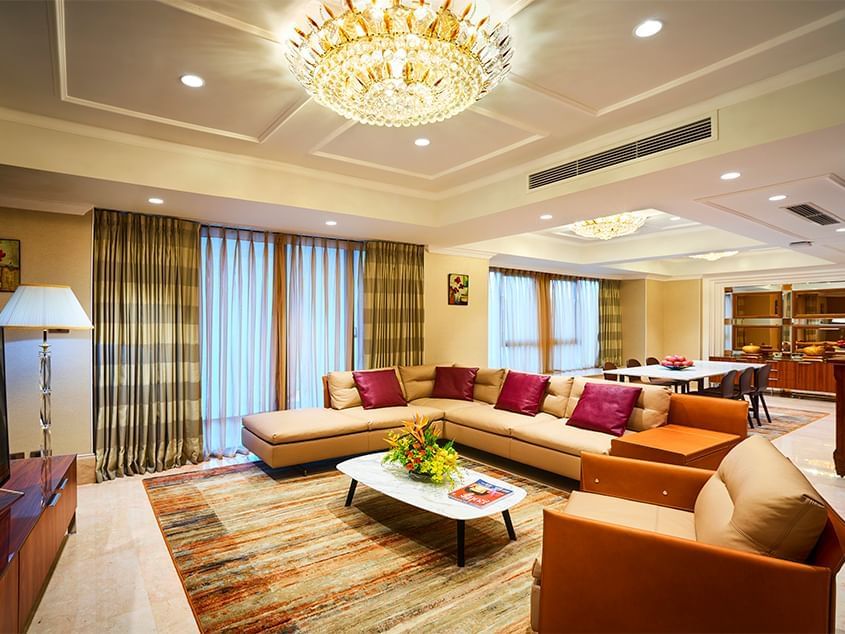 Sherwood Residence is designed for both comfortable holidays and long-term stays. A five-star serviced residence in Ho Chi Minh City, Sherwood presents spacious, beautifully designed apartment and penthouse units. Combining impeccable services with the comforts of home, Sherwood Residence is the ideal family- and business-friendly serviced accommodation in the heart of the city.
Luxury Apartments for Short-Term and Long-Term Stays
Designed for between two and five adults, apartments range from the Two-Bedroom Premier with 82 square metres (833 square feet) to the Three Bedroom Executive with 143 square metres (1,539 square feet). Penthouse accommodation offers a more sophisticated space with unrivalled space and luxury. They also feature rooftop views and a garden area.
Elegant furnishings and a fully equipped kitchen to create homemade meals await guests at Sherwood Residence. Each room offers everything you'd expect from a serviced apartment in Ho Chi Minh City. Daily housekeeping keeps everything clean and tidy, while free high-speed internet gets guests connected. Check your email or catch up with work with a dedicated desk. In addition, each unit includes a utility room with a washing machine, dryer, and iron with ironing board.
The living room presents a perfect area to watch international and local channels on a large LCD TV. While private balconies open to stunning views of Ho Chi Minh City and allow for the fresh breeze to flow through the unit. Air conditioning keeps guests cool and comfortable during their stay.
Convenient Services and Luxurious Facilities
The ideal serviced apartment offers a variety of services and facilities for your stay. For a short getaway or a longer holiday, Sherwood Residence offers guests diverse amenities. A business centre has all the essentials, from printers to mail service. In addition, three meeting rooms are perfect for hosting conferences, seminars, and other events. The complimentary shuttle service whisks guests to shopping, dining, and tourist attractions.
For health-conscious guests, an array of exercise equipment is available in the Sherwood Residence fitness centre. Relax in the sauna or steam room, and keep fit with modern treadmills, weight machines, and more. Enjoy the tropical sun at the outdoor swimming pool with poolside service available featuring a selection of delectable snacks and refreshing beverages.
Guests can relax and mingle in The Club House, a wonderful facility with games and spaces to relax. There are video games, a billiards room, table tennis, and more. A study room and yoga space provide quiet spots to escape. There is even a private 11-seat cinema with the latest technology, including surround sound. Guests can also rent a movie to enjoy in their room.
Dining in style
When looking for the ideal serviced residence in Ho Chi Minh City, you need a great place to eat. Sherwood Residence offers two exceptional dining options close to your apartment. In addition, the neighbourhood is famed for local cafes and international restaurants.
The Club Restaurant and Bar has a delicious selection of Vietnamese specialties plus international dishes from across Asia and beyond. Guests can also select international wines from an on-site Wine Boutique. For evenings at home, Sherwood Residence offers an expansive in-room dining menu. Alternatively, guests can visit the local supermarket and cook their favourite meals in the units fully-equipped kitchen.
And within the neighbourhood lie countless cafes and restaurants to experience. From local delicacies to the latest international food trends, finding something new and exciting to eat is always just around the corner. Located on Pasteur Street, one of our favourite recommendations for tenants is Café Central Villa Pasteur. Set in a colonial-era villa on Pasteur Street, the restaurant presents an extensive menu of favourite Vietnamese dishes as well as a host of international fare including classic Guangdong cuisine. In addition, the terrace seating is a perfect destination start the day with a cup of classic Vietnamese coffee with condensed milk.